Join the Windsor Home Cleaning Team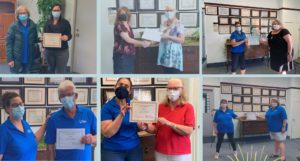 Windsor Home Cleaning (WHC) is looking for positive, energetic and dependable individuals who like to clean and take pride in their work. Each member of the WHC team plays an important role, crucial to the success of our company.
We are Ottawa's Oldest and largest residential cleaning Service. Our quality service is always in demand, spring, summer, fall and winter. Many of our staff have been with us a long time. What our cleaners love about Windsor, is we offer a good work-life balance. You can set your hours, and we will work around that!
Check out our Careers page today for current opportunities. 
We like to let our work speak for itself. And just like our work, we will let our team members speak for WHC regarding what it is like to be part of our team.
Quotes from our team
"The staff are awesome! Great management makes the employees feel special. It's a stress-free place to work." –RM (9 months with WHC as of Sept 2021)

"I like the staff in the office, They are always helpful and kind. I like the co-workers that I have worked with. I like my clients and always feel good when they're place is clean. Especially clients that are unable to clean their homes, they are very appreciative." – DM (19.5 years with WHC as of Sept 2021)

"I love working with my co-workers. Everyone in the office is amazing! I really like all of my clients which makes it a pleasure to come into work!" –SP (14 months with WHC as of Sept 2021)

"That they know how to treat their employees with respect. Always pay on tome. good benefits and understanding. Good environment to work in. If you want to work in a good cleaning company, this one is it." –GV (11.5 years with WHC as of Sept 2021)

"I like working for Windsor because the people are very nice and good to you." –EL (21 years with WHC as of Sept 2021)

"What I like about working at Windsor is the feeling of genuinely being happy to see everyone. It is rare that one gets to work with wonderful people all across the board (office staff and technicians). So I very much enjoy getting to interact with everyone on a daily basis. The environment and atmosphere is very friendly and welcoming and that is a constant perk that I enjoy about my job!" –BB (3 months with WHC as of Sept 2021)

"I like the large variety of tasks. No day is ever the same. I also love working with the people at Windsor, they are simply fantastic. They are also very flexible and accommodating to one's schedule." –JA (2.5 years with WHC as of Sept 2021)

"I love the way this company is run, the variety of work and the people I work with most of all. Our devoted clients who always are so understanding if any changes need to be made. They let us know what a great job their technician is doing and how happy they are with the match I have made for them. Versatility of being able to do a variety of tasks which makes my days fly by, making it a pleasure to come to work everyday. Having a forward thinking, supportive company that realizes employees are their greatest asset!" –LE (5 years with WHC as of Sept 2021)

"The peace of mind!" –SD (new with WHC as of Sept 2021)
Visit the Careers page for current opportunities! We'd love to hear from you.