We are growing again, if you like to clean, we need you!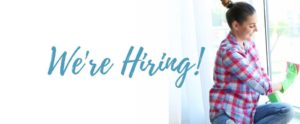 Spring has arrived and demand for our services has increased! We are growing again, if you like to clean, we need you!
Join the most established home cleaning company in Ottawa as a part- or full-time residential cleaning technician! Windsor Home Cleaning technicians have fun, feel appreciated and improve the wellbeing of others all while working flexible hours and being paid a competitive base hourly rate.
Do you enjoy:
Tremendous job security

Great work-life balance

Setting your own hours

A solid benefit package:
Prescription Drug coverage
Eye Care
Basic Dental Care
Life Insurance and A.D.D. Coverage
Canada Pension Plan
10 Paid Statutory Holidays
2 Paid Personal Days
2 weeks of Paid Vacation
Workers Compensation Coverage
Employment Insurance
Ontario Health Insurance
On the Job Training
But first, more about the role:
Residential cleaning is a skilled trade.
We put a lot of effort into improving techniques, time management skills and our knowledge of products.
Our company is famous for the quality of our cleaning. Even if you already have years of experience, you will benefit from our training.
New staff start at very competitive base hourly rate. Cleaning technicians who use their own vehicles also receive a generous travel allowance on hours worked, on top of the hourly wage.
Your evenings and weekends are always free. Most of our staff work independently—not in teams.
Are you:
In good physical condition—able to frequently knee and bend?
Able to speak, read and write English?
Able to obtain a basic security clearance check?
Willing to learn the "Windsor Way" of cleaning?
Able to show an understanding of the importance of removing bacteria and viruses?
Able to work independently with no direct daily supervision?
Able to supply references?
Do you have:
A reliable vehicle, or are prepared to bus centrally?
No unusual fear of household pets?
No allergies to dust, mold, pets?
Experience in a job where physical hand-eye co-ordination is important?
An eye for fine detail cleaning?
A helping, caring attitude?
If you answered "yes" to these, please apply by either:
Completing the form on our website.
Or by emailing us at office @ wecleanhomes.com with your resume.
Most of our staff work six to eight hours per day, Monday to Friday. Most clean two houses per day.
We can tailor a schedule to suit you – your part of the city and your hours.
The total compensation package offered is recognized as one of the best in our industry. Our team members love working for Windsor Home Cleaning, check out our current staff testimonials.