COVID Safety Update & Tips for Between Visits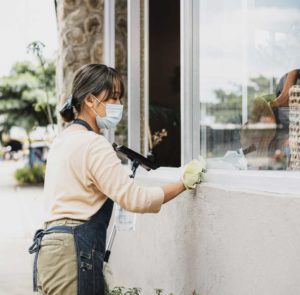 For more than 40 years, keeping your house clean has been, and remains a top priority. Especially during these times—while Ontario's stay-at-home order is in place until mid-May 2021—we're all spending a lot of time in our place of residence, and we want it to be extra comfortable!
And while cleanliness plays a large role in the comfort of your home, often homeowners don't have the time or desire to complete those chores. We know that a clean home is a relaxing home, which is why we're happy to offer comprehensive services that go above and beyond, especially now.
We all know that maintaining a clean home is vital to preventing the spread of bacteria and viruses. Below we have outlined a list of several of the measures we take to keep you and your home as safe as possible while we clean and after we've left your address:
Our cleaners use your home vacuum, etc. so there is no bringing those tools from home to home.
Whenever possible, and weather permitting, we open windows to let fresh air in and circulate the air flow.
In addition to daily temperature checks, we wear personal protective equipment, (PPE) including masks and gloves and we change PPE between homes.
For the safety of our cleaners and our clients, we ask our clients to wear masks and social distance in a different room.
Our cleaners use sanitizing products throughout your home, especially on high touch areas and they let the product sit on the surface for the length of time that is required for disinfecting against the coronavirus.
All of our employees bring their own indoor shoes which are then sanitized between client visits.
We also use fresh sets of cleaning cloths and cleaning bottles for every job.
All team members have been provided with extensive training to ensure safety of any new products used. We pride ourselves on adapting our cleaning services to best fit your needs. Our process allows you to enjoy peace of mind, as well as more time back in your schedule, to take care of what matters most to you.
Matrix Disinfectant Fogging
We are also introducing a new disinfectant fogging machine into our arsenal of tools! We will be offering this as an added service, especially for deep cleans and move ins/outs. Please get in touch with us to book this added service if you are interested in additional disinfection applications.
If you have any additional requests to help keep your home and family clean and healthy, please let us know and we'll do our best to accommodate them.
Five tips to keep the high-touch items in your home sanitized between Windsor visits
Make a list of high touch items and leave it in a visible spot, like the front of your fridge door.
Your list might include: Doorknobs, handrails, light switches, cabinet/faucet handles, tables, countertops, electronics, toys and sports equipment.
Clean those surfaces using a product suitable for each surface, following instructions on the product label. Sanitizing wipes work well and are quick and easy.
It's best to work from least-to-most dirty when working through a cleaning routine, or be sure to change out the cloths/wipes between heavily soiled items. For example from eletrontics to toys.
Wearing gloves is a good idea, be sure to wash your hands with warm water and soap for 30 seconds when you're done.
Stay healthy and please reach out if there's anything that we can do for you! 
Our phone number is 613.238.7761 and we're always happy to assist you by telephone.