Seven Spring Cleaning Tips for Your Home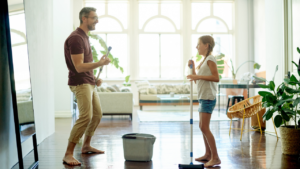 Spring has sprung! Which means it's a great time to get your home in tip-top shape. A thorough, seasonal clean is a tradition that not only promotes wellness via a sanitized and organized environment, it also signals a fresh-start before the summer. We've compiled some of our favourite declutter and deep-clean tips, to help you get your house to sparkle.
1. Make a Cleaning Schedule
You can type, write and even put your list on a clipboard. The idea is to match days to tasks, as it will likely take a few days or longer to get all your spring cleaning tasks completed. We recommend aiming to complete all your indoor tasks in one week, as it's a good idea to plan out another week to clean the outside of your home (power-washing, washing window screens, preparing the garden, cleaning out the garage, cleaning out the car, etc.) For example, your list could start like this, "On Day 1: Clean all baseboards, banisters, walls, windows and mirrors, clean all glass surfaces and wipe down electronics."
2. Always Work from Top to Bottom
When you plan out how to spring clean your home, it's important to work from the ceiling down. This will force dust downward and keep you from having to re-clean your space. If you have a vacuum with an extension hose, use it to get cobwebs and dust from your ceilings and fans first. Afterwards, dust your furniture and other items before vacuuming your floors. Another fun dusting tip is to recycle old (clean) socks to use as dusting mitts. Cotton is a great fabric for trapping dust particles!
3. Walls and Windows Need Love too
People almost always clean their floors, but they typically forget about walls and windows. Not all dust settles on the floor and other surfaces. Use a damp towel, (or recycled, clean sock!) to wipe down walls and blinds (starting from the top). You can plan to remove and wipe down the window screens outside too. When it comes to the actual window, a squeegee is a great way to clean those.
4. Use a HEPA Vacuum
You can remove more than just dust build-up when you vacuum. A high-quality HEPA vacuum is one of the best spring cleaning supplies to arm yourself with. They catch tiny airborne things you can't see, like pet dander—the particles often responsible for allergies. If you don't have a HEPA vacuum, look for a vacuum with attachments like dusting brushes, crevice tools and hoses that can be used to clean more than just your floor. These tools make it simple to clean ceiling fans, cobwebs in corners, pillows, and tight spaces like behind furniture. Be sure to move your furniture too (or at least vacuum under it).
5. Dance the Clutter Away
Be realistic and make time for a dance party. Removing the dust and cobwebs of winter can be an overwhelming task. Tackle the job in blocks of time by creating a playlist of four to five of your favourite high-energy songs. Add a sixth song at the end that will inspire you to enjoy a mini dance party break. Justin Bieber is making a comeback!
6. Unpack and Stack Your Spring & Summer Clothes
Are your dresser drawers a mess? Instead of putting away folded clothes flat, stack them vertically for easy access, a tidy tip popularized by Marie Kondo. You can stack your clothes inside shoeboxes to keep neat rows inside your drawers. We love packing away the winter clothes this time of year and pulling out the bright colours and floral prints of spring and summer. Lavender satchels are a nice alternative to mothballs too for your winter wool as well.
7.  Meal Prep or Order Take-Out!
Make a week's worth of dinners ahead of time when you plan out your spring cleaning. Because you will likely not have the time or energy to cook when you are diving into this deep clean journey. Or support local and order dinner from your favourite restaurant for delivery. That way you have a nice treat after all your hard work.
If it's warm enough, open the windows, and let the fresh air in as you freshen up your home. When your chores are done, not only will the sun be shining, your home will too.
If the thought of spring cleaning your home feels daunting—but you want the benefits of a cleaner, healthier environment—without spending hours dusting, scrubbing and washing, get in contact with us because we specifically offer a spring cleaning service. 
All of our cleaning technicians have an average of 15 years of experience in the industry. This means that your home will be in the hands of an experienced professional that is committed to providing the best service possible. Our employees are bonded, insured for theft, damage and personal injury and also are covered by WSIB. A sparkling spring clean is within reach!