Essential Oils In Your Home – Are Essential Oils Bad For Your pets?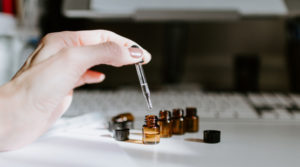 Essential oils have had a resurgence of popularity as of late and many people are using them for their therapeutic benefits. They have been adopted for frequent personal use, topically, orally or through aromatherapy as they are widely known to treat common ailments such as as-as arthritis, anxiety or cold symptoms. Essential oils can even be found in beauty products and household cleaning products. With Canadians integrating these more and more into their everyday lives, the conversation has shifted to, How do these oils affect our pets? There are two sides to this conversation. Some believe that essential oils can provide health benefits to pets, similarly to humans, however, they can also be extremely harmful. It is important to exercise caution when using essential oils around your pets, and it is recommended that you consult your vet first. We've comprised a quick guideline of safety tips to follow when using essential oils around your pets, as well as a list of which oils to avoid and which are safe.
Keep in mind that cats and dogs have an enhanced sense of smell. When using oils in a diffuser, the smell can become overwhelming to your pet. Try to not leave these running for an extended period of time if your animal is in the room or has access to the room.
Make sure to keep your oils stored away from pets in a place they can not access them even by accident. Cats, in particular, cannot metabolize some of the components inessential oils, therefore they are more susceptible to toxicity. If your pet accidentally ingests essential oils, call your vet as soon as possible.
It is important to note that animals react and absorb the oils much differently than humans do. Before using any oils on your pet, be sure to dilute them in water first as they may have a negative reaction that can include chemical burns or irritation. Some symptoms of overexposure to be aware of are: excessive drooling, scratching, increased breathing, vomiting, weakness, difficulty walking, muscle tremors and lack of energy.
It is a popular belief that essential oils can act as a natural flea and tick repellant, however, there is no science that proves this. In fact, the oils used in these "repellant" recipes, are not considered to be safe for your pets as they can irritate the skin.
When using essential oils around your pets, always use high-quality therapeutic grade essential oils. Lesser quality oils are made with additives that may trigger pet sensitivities.
Below are a few oils that you should avoid:
For Dogs:
Clove
Garlic
Juniper
Tea Tree
Thyme
Wintergreen
Pine
Cinnamon
Citrus
Pennyroyal
Sweet Birch
Ylang yang
For Cats:
Cassia
Cinnamon
Citrus
Clove
Eucalyptus
Lemon
Lavender
Peppermint
Spruce
Tea Tree
Not all oils are created equally, there are some that can be used safely around your pets and can even help them. Below you will find a short list of these oils and their potential benefits, but always keep in mind that every pet will react differently and these should always be diluted and tested in small amounts first.
Cedarwood – Helps promote healthy skin and coat.
Myrrh – Can help fight allergies and promote health and skin and coat.
Clary Sage – Calms nervousness and excitability.
Peppermint – Soothes pain from arthritis.
Carrot Seed – Supports healthy skin as a topical treatment for dryness.
Ginger – Relieves pain from arthritis and supports healthy digestion.
If you are interested in learning more about oils it is always best to consult your veterinarian before use.