Post-Construction Checklist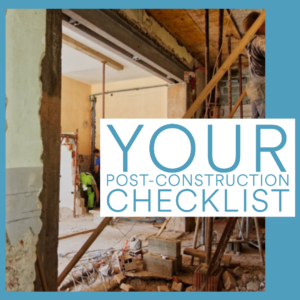 As the warmer months wind down you may be in the midst of finalizing construction projects in your home. With construction projects big or small comes change, as you may know, furniture is out of place, dust may have collected on your walls and decorations may be hiding in storage. Once the drop sheets are lifted and the crew has moved onto their next project you may feel overwhelmed with where to start. Keep reading as we share our post-construction cleaning list. You'll have your home back in tip-top shape in no time! 
Dry or wet dusting of ceiling fixtures, lights, fans, and heater vents.
With construction comes dust. Before you turn on your heat or fans make sure you have properly cleaned your fans, vents and heater appliances. Floating dust can get trapped inside. If you clean your home and then turn on the heat they will spew out dust and dirt into your freshly cleaned space. 
Sweep first and then vacuum and mop floors.
We pulled out the cleaning trio for floor care as you'll be tracking unwanted dust and dirt around the house if they are not properly cleaned. Send the broom to the far corners of each room to ensure all leftover dust and debris has been collected. Once the larger piece has been picked up then go in with the vacuum before mopping (wet or dry) your floors. Don't skip out on the floor detergent. You'll want to ensure your floors are spick and span before allowing your family and friends to walk on them.
Vacuum your upholstery.
Yes, make sure you don't forget your upholstery! Even though they may have been in storage your couches, cushions and curtains may have collected dust mites and dust from being placed in storage. Before putting your curtains back out send them through the wash and give your upholstery a good vacuum. If your couch and cushions have removable pillowcases send them through the was as well. 
Clean inside closets and cabinets.
While your contractor will have performed a detailed post-construction clean himself you want to ensure any closed spaces with cracks and crannies have been cleaned from the inside as well. This includes cabinets, pantries and cupboards.
Consider getting a professional cleaning.
At the end of the day, you want your home to be clean not only for aesthetic purposed but for the health of you and your loved ones. If the thought of cleaning your space is daunting consider hiring our team to come in and get your space clean and tidy again. When cleaning after a construction job you'll want to ensure all of the invisible dirt is taken care of as this can pose a serious risk to your health. At Windsor Home Cleaning we specialize in ensuring even the invisible dirt is taken care of, to book a home cleaning appointment visit this link.