10 Things to do in Ottawa this October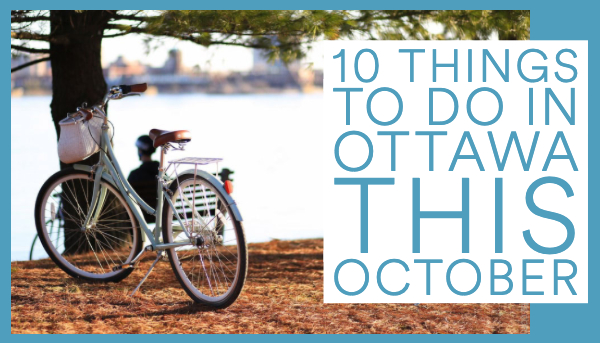 October is officially here, as we rejoice by drinking pumpkin-spiced lattes and pulling out our coziest of sweaters numerous events are happening in and around the Ottawa area. 
As we soak up the final days of sun before the snow hits there is certainly a ton of Ottawa events you can take in before the month's end. Keep reading as we share Windsor Home Cleaning's top 10 Ottawa events happening in October!
Carleton University Butterfly Show
Now until October 15th stop by Carleton's Nesbitt Biology building, (South-east corner of campus) and enjoy Carleton's annual butterfly show where over 1300 exotic butterflies are released into their greenhouses. You are invited to wander through and take in the natural beauty.  To learn more click here. 
Parc Omega Illuminated Trail
Now until October 12th enjoy the illuminated trail at Parc Omega. Open Thursday and Saturday evenings, you'll be guided through an enchanted forest story where you will have the chance to take in the stunning lights and atmosphere of their enchanted forest. This event is designed to be taken in at night. Prices vary by age. To learn more click here.
Prescott Murder Mystery Nights
The perfect date night…if you dare. Enjoy the thrills of the Prescott's Murder Mystery Nights in Ottawa! Now until November enrich your Saturday nights with their interactive murder mystery show! Perfect for adult friends and family! To learn more click here.
Thanksgiving Weekend at the Farm
This weekend treat the kiddos to a fun-filled afternoon at the Canada Agriculture and Food Museum and celebrate the harvest! Thanksgiving weekend is also known as harvesting time for many Canadian farmers. Stop by and see the farm machinery on display, meet the museum's turkeys and check out the different varieties of fall produce ( there will even be tasty samples of fall recipes!). To learn more click here.
Chillings Estate Halloween Party
On Sunday, October 20th grab the kids and suit up into your most spooktacular costumes for an afternoon of family-friendly Halloween fun! You'll learn about the history of pranks as well as take part in Halloween activities and treats! Activities will be both indoors and outdoors so make sure to dress for the weather! To learn more click here.
613 Flea
This Saturday, October 12 join the Ottawa community for 613 Flea! Located at the Aberdeen Pavillion at Lansdowne stroll through the many stands of local artisans and creators. Shop for local treasures and vintage finds! To learn more click here.
Ottawa Fire Truck Pull
Mark your calendars this Saturday, October 19th for the Ottawa Fire Truck Pull where you'll watch teams from throughout the community haul a 10+ tonne fire truck 100 feet! To learn more click here. 
National Women's Show
The National Women's Show is back!  Enjoy a day out with the girls and take in the latest in fashion food and fun! To learn more click here.
Pumpkinferno
Yes, you read that right! Everyone loves a carved pumpkin, but how about 7,000 carved pumpkins? Wander through the outdoor display of over 7,000 carved jack-o-lanterns! All displayed along an outdoor 1km track it's the perfect family evening! To learn more click here.
Toddlers Halloween Haunt
Join the Diefenbunker Canada's Cold War Museum on October 31st for a day of family Halloween fun! Come dressed in your best Halloween costumes. Kids are welcome to pick up treats as they encounter family-friendly ghosts and ghouls! To learn more click here.
Let us know if you check out any of the attractions on our October guide! Keep your eyes on our social feeds for more community events and cleaning tips! To follow us on Facebook click here!