Rest Easy Knowing Who's Cleaning Your Home!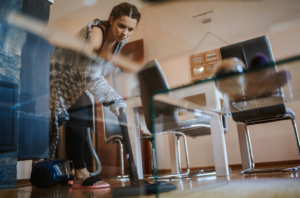 In light of a news story published in November about two women offering cleaning services in Ottawa, we wanted to share some general tips to keep you and your home as safe as can be. It turns out the women under investigation allegedly lifted valuables from the homes they were cleaning over the past few months across the city.
Our heart goes out to those who invited the pair into their home, expecting to receive a professional and safe experience but ended up with missing jewelry and money. This is one of the worst things that can happen between someone providing a service and someone paying for that service. And it can make a person think twice about who they invite into their home in the future.
Finding the right house cleaning provider in Ottawa can be a daunting task. But it's important to not just pick someone off of a Facebook marketplace ad, or bulletin board, without doing your due diligence.
Are the people advertising as cleaners compliant, legal and insured if injured in your home? Are they insured if they damage or break something in your house? Do you know all of the contact details and history of the person who is cleaning your home?
If any of the answers are "no," will your insurance company respond to your claims? These are the questions to ask yourself, the cleaner or cleaning company you are considering, and your insurance provider.
Besides the risks outlined in this recent CTV news story, other areas of concern when giving a paid worker access to your property include:
An injury to a worker at your home
A threat to family members and/or pets
Failure to keep the property secured by worker
Identity theft or leaking sensitive information
Disappearance of valuables and money
Ontario legislation defines private residences as "workplaces,"—if the owners are paying a contractor(s) to do work there.
So, how does this affect you? The Workplace Safety and Insurance Board (WSIB) must be involved and premiums must be paid. Failure to do so puts the parties in contravention of the law. The big risk lies in what happens in the event of an injury (such as a fall down stairs), which leaves the worker in a disabled condition.
If you have a company that is not insured or does not have a current valid WSIB certificate, then you're exposed to the possibility of a civil lawsuit by the worker and your personal home insurance may deny your claim. Some of these settlements have run into several hundreds of thousands of dollars, potentially taking the homeowner's assets in the process. It's important to only allow workers who have proof of WSIB coverage onto your property.
Hiring someone to come onto your property to provide a service is no small task! If you are concerned about the security of your home and valuables, then Windsor Home Cleaning is the right fit for you. Our professional staff are highly experienced, well trained, and are paid a competitive salary. In addition, all of our employees are fully insured, bonded and are covered by WSIB. This gives you peace of mind ensuring that your home and your assets are protected.
 Our Cleaning Technicians are Fully Insured and Bonded
The best house cleaning services have cleaning technicians who are fully insured and bonded. What does this mean for you, the client?
Every home cleaning technician is covered by WSIB, so that you are protected in case a technician gets injured while performing their duties in your home.
In the event of breakage of an item during the cleaning process, a third-party insurance company is behind the cleaning service in order to prevent you from having to spend any money on repairing the item in question.
You can have the peace of mind that an accident involving a technician in your home will not result in a possible request for compensation to you, the client.
You can breathe easier knowing these bases are covered—and not just because of the fresh scents a clean home provides!
We Perform Extensive Background Checks
We pay our cleaning technicians well, and thus attract the best employees. Our background checks not only check the references of every potential employee, but we also conduct a police background check in order to be 100% certain that every employee in our team is a responsible and honest citizen.
Our Cleaning Technicians Receive The Best Training
Safe home cleaning is often synonymous with the most efficient home cleaning! We take training our skilled workers to heart—for our clients and the technicians' sake. This involves an in-depth knowledge of specialized cleaning products and their interaction with each other, workplace safety best practices and even how to get on the best side of household pets.
With an A+ Better Business Bureau rating and more than 40 years experience serving the National Capital Region, our extremely thorough services are trusted by professionals and individuals. Furthermore, we take great pride in being Ottawa's oldest house cleaning service and we continue to provide the best value in the city. There is a reason why more Ottawans have chosen Windsor every year since our company was founded in 1978! We understand and respect that your home is your haven.
Give us a call at 613-238-7761 or email us today with any questions you may have about this topic or to receive and estimate.