Christmas Letter Recipe – Gingerbread Linzer Cookies with Dulce De Leche Centres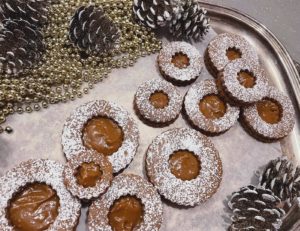 We wanted to share the cookies included in our December 2021 Christmas letter, here on our blog.
This recipe comes from a team member who likes to serve them with tea or coffee this time of year. Happy baking! 
Makes 12-24 cookies
(depending on cutter size)
Prep Time: 45 Minutes
Cook Time: 10 Minutes
Total Time: 4 hours
INGREDIENTS ~
For The Dulce De Leche:
15 oz can sweetened condensed milk
1/2 teaspoon sea salt
For The Spicy Shortbread:
1 cup butter, softened
1/2 cup brown sugar
2 tablespoons fancy molasses
2 cups all-purpose flour
2 tablespoons ginger
1 tablespoon cinnamon
1 teaspoon nutmeg
1/2 teaspoon cloves
1/2 teaspoon salt
INSTRUCTIONS ~
For The Dulce De Leche:
Remove label from the sweetened condensed milk and place the can on
its side in a pot of boiling water.
Lower the heat and simmer for 3 hours.
Important: Make sure the water covers the top of the can at all times
(you will have to pour in more water from time to time).
Carefully remove can from water, allow to cool slightly, then open and stir in salt.
Set aside.
For the Spicy Ginger-Shortbread:
In a mixer, whip butter, brown sugar and molasses until combined.
In a separate bowl, combine flour, spices, and salt. Pour into mixer, pulsing until combined.
Separate dough in half and pound into disks. Wrap each disk in plastic wrap and refrigerate for at least 30 minutes (or up to 24 hours).
Preheat oven to 350°F. Line two large baking sheets with parchment paper. Set aside.
Remove one disk of dough from the fridge and place on a floured work surface. Use a rolling pin to roll dough out to 1/4 inch thickness. Your dough may be crumbly at first, just knead it a bit before rolling.
Using a 3-inch fluted edge cookie cutter, cut out disks of dough and place onto baking sheets. Use a 1-inch fluted edge cutter to cut out the centre of half of the disks of dough. Repeat this process again with your leftover scraps of dough.
Repeat entire process with second disk of dough.
Bake cookies for 8-10 minutes. The cookies should be slightly soft to the touch. Allow to cool for 10 minutes on the baking trays, then transfer to a cooling rack to cool completely.

Dust the centre-cut cookies with powdered sugar. Place a rounded teaspoon

of dulce de leche in the centre of a full cookie and then sandwich it with the powdered-sugar cookie. Repeat with remaining cookies.
Please let us know if you've made them too and how you like the spicy shortbread!