Quick Summer Cleaning Hacks to Keep Your House Clean in the Summer Heat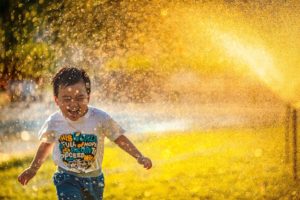 It's safe to say summer can be hectic. With vacations to sporting events, not to mention your children being out of school, you may find the normal at home mess increasing almost as fast as the humidity in the air. It's normal to feel a little unmotivated when the outdoor air feels like a Le Nordik sauna. But now that the humidity has left it's time to get your house back in order. Keep reading as we share a few quick tips to getting your home back in order during the summer months.
1. Deodorize your garbage with baking soda
Keeping your house clean and smell free in the summer months doesn't have to be a chore. Sprinkling baking soda at the bottom of your garbage will help to nix odours before they spread. This is helpful for those storing garbage in hot garages or on the front porch.
2. Erase grill grime
Ah, the days of BBQ'ing are upon us. Who can pass on that perfectly grilled burger? We know we can't! With the increased use of the family grill, you'll want to ensure you are keeping this cooking space grime and bacteria free. While the grill is still warm scrub down the grates with a wooden scraper. To skip cleaning altogether opt for a grilling mat that can still give you grill marks but without the mess. A grill mat is recommended if cooking shish kebabs or anything that may fall through the grill.  If you are dealing with burned on food don't fret – allow the grill to cool down then take off the grate and use oven cleaner to loosen any grim and baked on food. When using an oven cleaner always make sure you are in a well-ventilated area and wearing rubber gloves. This will save you from having to air out your house after you have cleaned the grill.
3. Revive your beach towels
There is nothing worse than finding your kiddo's wet beach towel crumpled into a ball in the bottom of their bag. Revive your beach towels by running them through the wash with a ¼ cup of white vinegar added. Hang to dry or send through a dryer cycle without dryer sheets (these can often reduce the absorbancy of terry based towels).
4. Don't let mildew spread
With the increase in humidity, it is important to prevent mould and mildew from settling and growing. The washing machine can harbour bacteria during the summer months often leading to an unpleasant smell. Every so often run an empty load with detergent and very hot water. Once the cycle has ended keep the door open to ensure the machine has air circulation and can dry fully. This will leave your house and laundry smell free!
5. Don't forget your summer toys
Getting hauled in and out of the water not to mention being dragged across the grass and dirt, your pool floaties may not be as clean as you might think. Use vinegar (½ cup for every ½ cup of water) to wipe down any noodles, rafts and plastic pool toys. Vinegar is a safe household cleaner that can keep bacteria from spreading without the use of harsh chemicals. Once the pool toys have been cleaned allow them to dry out fully in the sun and always store in a mesh bag off the ground.
The summer months offer endless opportunity for fun. Don't let cleaning hold you down from enjoying your time off. We hope these quick cleaning tips can help you free up more time for friends and family. If keeping on top of your home cleaning is showing to be a struggle do not hesitate to reach out to us for help. Click here to get in touch!