How Clean is your Office?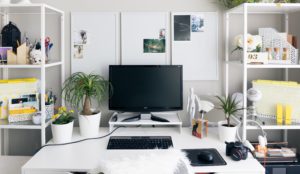 If you have the opportunity to work from home we are envious! But even if your home office is more of a visit once a month room, you still need to keep it clean. We've put together a list of our most important office cleaning tips so you can keep your office functional and clean.
One of the most frequent comments we receive with regards to keeping an office clean is the amount of dust it can collect. Static from electronics can be quite the dust magnet leaving your working space encased in a thin film. Before you go in with the cleaning products give everything a good dusting. Always use microfibre when dusting electronics.  Lightly dust over your electronics making sure to turn them off first, follow up with a light dusting around your desk, bookshelves, window sills and any other tables you may have in the room.
Sanitization is a key concern for office use. You'll want to ensure you are disinfecting your electronics at least once a week to keep germs and bacteria at bay. To thoroughly clean your desk, move any pens, notepads, etc. and work around the larger items. Spray a disinfecting all-purpose cleaner on surfaces (using water and vinegar if your desk is wood) and let the mixture sit for a few seconds. While you let the cleaner sit give your phone a quick wipe down as well. Once the cleaner has sat for a few seconds wipe away with a damp cloth.
Before putting paper and notepads back in place do a quick one over and recycle any old notes, file away loose receipts or pages so you aren't contributing to excess clutter.
Want to keep your space clean and bacteria free? Give surfaces a quick wipe down before leaving and give the entire space a quick vacuum and dusting once a week.
Of course, not everyone's schedule can accommodate a weekly office cleaning. If your space is long overdue for a clean take advantage of our Get Ready For Fall Sale on now until October 31st. A 3-hour interior cleanup is only $180+ HST. For more information click here. If you are interested in regular cleaning services with Windsor Home Cleaning click here to get started.