Organize your Pantry like a Professional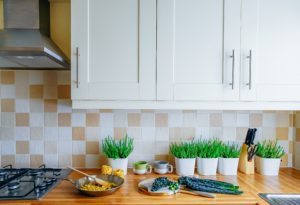 The kitchen pantry, whether it is sprinkled with sticky fingerprints or is your family's go-to spot after a hard day of work, every family has one. With such a small spot housing so much foot traffic it is bound to get disorganized and even dirty. While small spaces can get dirty easily they are also easy to clean and can completely be transformed with just a few small adjustments. With a few pointers, you can have this space looking spick and span within the hour. Scroll down to read a few of our most prized pantry cleaning tips!
Clear it OUT. That's right, empty out the entire space. This will allow you to really give the shelves a good scrub down ensuring pesky bacteria and dust is fully eradicated before you start filling your shelves again.
Keep what you use. Do you really need 3 boxes of pasta or that cooking appliance you received as a wedding gift? If you've been hoarding certain food items for months if not years consider donating them to the food bank or if they have expired composting them. There is nothing worse than a packed pantry with half the food never being touched.
Consider tossing:
Spices that are older than one year

Dented Cans

Expired items

Bulk purchases without clear purchase dates

Duplicates ( In this case you can toss of combine duplicate products when possible.)
Store smart. Before putting items back into the pantry consider storing in airtight containers. This will help food say longer. Ensure you are using clear containers or labelling them correctly so that you can find items easily. If you are feeling fancy choose a theme for your pantry whether it is stackable Tupperware containers or stylish glass mason jars, the pantry doesn't have to be drab.
Organize by meal. If your families go to dinner is spaghetti consider keeping a shelve stocked with your go-to ingredients at arms reach. Keep items which are used less often near the bottom or tops of the shelves and heavily used items at eye level.
It does not take long but a good pantry declutter and clean can make all the difference in reducing mealtime chaos. What are your favourite tips for keeping your pantry clean?