Winter-Proofing Your Home – When to DIY and When to Hire a Pro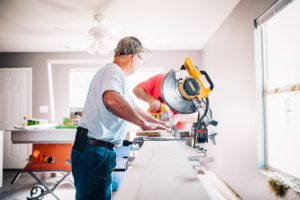 We can't believe it's Fall already. With some provinces experiencing their first snow this week ( sorry Alberta!) we can't help but feel the impending winter months. We all know a thing or two about winterizing our homes but do you know what projects you should leave to the pros? Read on to learn our top DIY projects and the tasks that we would recommend leaving to the professionals.
DIY Approved
1. Change out your furnace filter. This is an easy task that can greatly reduce the strain on your heating system as well as bacteria in your air. You should aim to clean or change your furnace filter once a month during the colder season. You can purchase furnace filters at your local hardware store, they vary in pricing and are usually priced between $50 and $1000. Switching out your filters will reduce the strain on your heating system, keeping your heating bill lower.
2. Close those gaps. We all know that feeling of a cold draft creeping through a window in the middle of the winter. Not only are they uncomfortable but they also indicate gaps and air leakages which will only ring you a higher hydro bill. Invest in a window insulation kit and add a few DIY door snakes by rolling up an old towel or blanket and placing in front of your door. If you still feel that chill around your window keep an eye out for areas where two building materials meet and run over a bit of caulking or weatherstripping. This will help reduce drafts drastically while keeping your home warm.
3. Check your foundations. Make sure all debris has been raked away from your homes exterior perimeter and clean out your eavestroughs. Seal up any cracks and cover any small entry points to keep out little critters from crawling in and under your home.
4. Keep your patio safe. Remove all seasonal patio furniture and store in a cool and dry area for the winter months. Do a quick run around of your garden and ensure all branches hanging close to electrical wires have been cut short and any sensitive potted plants have been brought inside.
Leave It To The Professionals
1. Install a storm door or upgrade to double or triple pane windows. If you experience heat loss from windows consider investing in more weather-proficient technology. A storm door may just offer an extra pane of glass but it can reduce heat loss by 45%. If you are in it for the long run consider hiring a professional to upgrade all your windows from single to double or maybe even triple pane to really keep the cold out.
2. Add insulation. Insulation between your walls and window areas are one of the best tools to reduce heat loss. Not only can it keep your home warm in the colder months but it can also keep the temperature of your home down in the warm months. It's a project best left to the pros but is a critical investment all homeowners should make.
3. Don't forget the chimney. Yes, even chimney's require yearly maintenance. Before the snow starts to fall ensure you get a chimney sweep to remove any unwanted debris or excess soot from your chimney. A professional can help you cap the exterior of the chimney to ensure no rodents or small animals make their way inside.
4. Seal your ducts. While doors and windows often take the spotlight you mustn't forget about sealing your ducts. Sealing your ducts will not only keep your hydro bill down but will also help prolong the life of your HVAC system by reducing its need to overwork due to hot air leaking out.
At the end of the day if you don't feel 100% comfortable with a task it is best to leave it to the professionals. Windsor Home Cleaning offers handyman services that can get your home in tip-top shape before the snow hits. To learn more about our handyman services click here or to inquire into hiring one of our handymen click here.