Our Tips for Keeping Your Home Clean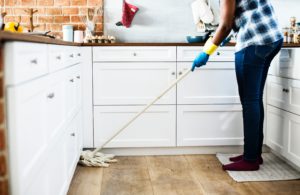 Maintaining your daily housekeeping can be difficult, but it shouldn't take up all of your free time. The best way to save time, but still get the work done is to create good habits and adopt daily routines. By committing to these simple and small tasks, you will see your home become cleaner while not actually working yourself any harder! We've outlined below some of our favourite tips for keeping your home clean!
1. Do your dishes after every meal.
Dirty countertops and a sink full of dishes look awful. They accumulate quickly and the longer you put off washing them, the worse the task becomes. It takes longer to get through them, and the stuck-on food requires more effort to scrape off. Taking the extra five minutes after your meal – or even better, while you're cooking, will keep your kitchen looking tidy and functional throughout the week.
2. Do laundry every day.
Depending on how much laundry you and your family produce in a week, you may not need to do this every day. However, keeping up with your laundry throughout the week will keep you from having to catch up on all of it in one day over the weekend. Your weekend should be for relaxing or spending time with family and friends, not being bogged down by emptying the hampers. Get into the habit of starting a load of laundry first thing in the morning. Whether this is while you are getting ready for your day or right before you leave for work. That way. its ready to be transferred to the dryer once you get home. Make sure to save time to put it away at the end of the day.
3. Do a nightly clean-up.
Make a habit out of doing a quick clean-up before heading to bed each night. This doesn't need to be more than 15 or 20 minutes – and is definitely not a deep clean! Simply take the time to put away toys, laundry, or any items that may be causing clutter. This is a good time to take out the trash or any recycling that may be piling up in your kitchen. Sticking to this routine will help keep your home tidy during those busy weekdays and allow you to wake up in the morning and not be overwhelmed by the small messes.
4. Give your shoes and coats a home.
Whether you have a closet in your entryway or not, find a place to store your shoes and coats. Shoes left scattered on the floor will create piles of dirt and water that will ultimately be dragged into your home. Save yourself the time of having to wash all your floors on a daily basis by organizing your families shoes and creating a space for guests to leave their shoes directly upon entering your home. Entryways generally aren't very big rooms and don't often have much storage space. If your family keeps all of their coats here, it will quickly become cluttered and overwhelming. Simply cut down on the volume by sorting the jackets by season and store the unused ones in a bin or closet in another room of the house.
5. Declutter and Purge.
Too often our homes fill up with unnecessary objects. Purge, recycle or donate items from around your home that are no longer needed. Do this as often as possible! The less clutter in your home, the easier it is to keep it tidy. When your home is organized, the time it takes to clean will be drastically reduced. Learning to purge is essential in keeping your home clean.